International Edition Textbooks
Students enrolling in college for the first time, or those returning to school after a few years, are often shocked when a visit to the campus bookstore reveals that the books required for their studies come at a very high cost. Individuals wishing to further their education without applying for excessive loans can reduce expenditures significantly by shopping online to acquire books that are nearly the same as those in the bookstores but with much lower prices. One of the major expenses associated with attending college is purchasing the books needed for each course, and international edition textbooks help make higher learning more affordable. The very reasonably priced books make it possible for learners to use new textbooks that cost less than the normal charge for used books.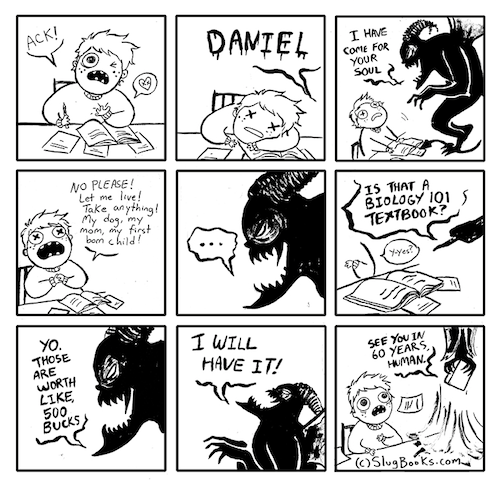 Textbooks published outside the United States, called international textbooks or low-price textbooks, are considerably cheaper than are the same books published in the US. Publishing and manufacturing costs are typically lower in other countries, and most people save about 50 percent when they buy international edition textbooks, but some savings can total as much as 75 percent. International editions usually have slight variations that may include printing in only black and white, lower-quality paper, soft covers, different pictures on the covers and occasionally, different ISBN numbers. The words, "international edition" or "low price edition" may appear on the book covers or inside the books along with the publication information. However, their content, page numbers and example problems are normally identical to that of their American counterparts. Written in English, the books in both versions have the same authors and publishers, and the paper quality is often comparable as well. Very rarely, the titles and exercises at the end of chapters may vary. It may also be necessary to purchase companion CDs, workbooks or other bonus features separately if those items are not included with the international textbooks.

Publishers sell these textbook editions in regions like Europe, Australia and Asia and price them according to the local markets and economic conditions, so that locals can buy textbooks at prices that make sense. Many in those areas cannot afford the prices charged in America, and cheaper books allow foreign students to seek high-quality educations. In addition, selling books overseas, even though prices are low, contributes towards increasing the steep cost of creating new textbooks. Thus, students who are paying for used books may unknowingly be increasing the prices for their peers. Labels on the books may state that they are not for sale in Canada or the United States, that their content may differ from US editions or that they are restricted. Distributors label the books in that manner as a method of encouraging people in America to buy the costlier versions produced in this country.

Most online retailers offer international editions of textbooks, and finding them is easier when searching by title and author as well as by ISBN because that number may not match the number on the US version. Carefully reading sellers' descriptions of the listings will ensure getting the correct book assigned for every subject. Many booksellers provide free shipping to give shoppers additional savings. Expedited shipping and money-back guarantees are available from some sellers as well. To gain the greatest advantage from procuring international textbooks, wise scholars obtain the books at greatly reduced prices and benefit from the savings realized at the point of purchase. They study the same material that their classmates read in expensive books produced in the US, and after completing the course, the smart shoppers sell their college books to others for use during the next semester.

Those concerned about the legality of purchasing or reselling international edition textbooks should do their own research, but most will be happy to learn about a 1998 decision by the US Supreme Court. The court concluded that copyright laws do not prevent anyone from legally buying or selling copyrighted material in this country, even works produced outside the United States. Someone outside the US, with a license to distribute copies of copyrighted works in other countries, would violate that license by sending those copies directly to the US for distribution to customers. However, a third party has the right to buy the copies from other countries, import them into this country and resell them without violating copyright laws. After learning about the Supreme Court ruling, some clever scholars have helped finance their education by investing in extra international edition textbooks and selling them to their classmates for a profit.